SERVICES
Your Speed To Market Partner
Speed to market and meeting development timelines are key to succeeding in today's competitive market.  The challenges of moving faster can be overwhelming, especially since it cannot compromise budget and quality. We can help speed up productivity to meet your time-to-market goals. Leverage our resources to quickly develop and deliver high-quality, affordable dispensing and packaging products.
Our production platform, which is continually updated with the latest innovations and includes hundreds of options, evolves in response to the extremely dynamic Korean market, where novelty and time-to-market are critical.
We have the ideal foundation, with many manufacturing & decorating capabiliteis to quickly support and deliver differentiated packaging to our our customers.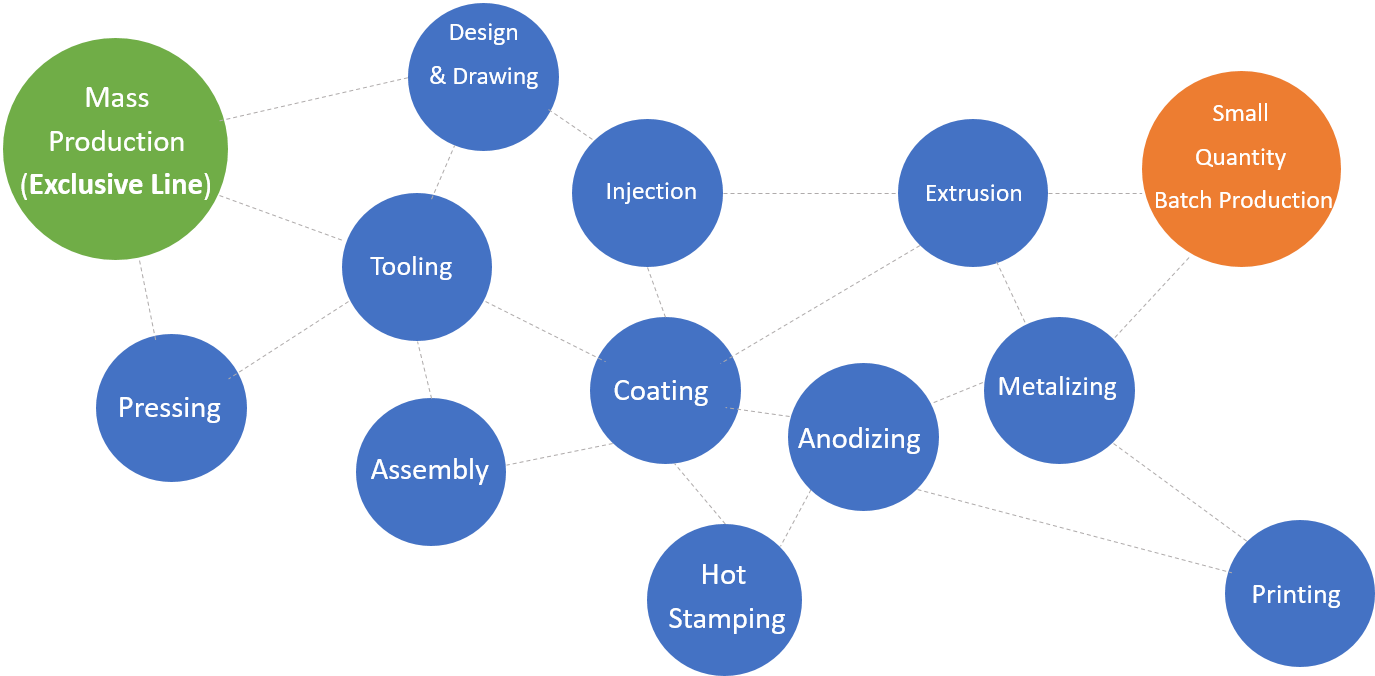 Our package development process spans many stages. Our team of 50+ engineers are ready to put their experience and expertise to work, and meeting your development project needs and timelines.
Ideation: Collaborative discussion and sketches to identifying unique shapes.
Definition of form and function: Preliminary documentation of dimensions and operation.
Visualization: Initial modeling with 2D and 3D rendering.
CAD/CAE: Computer Aided Design and Computer Aided Engineering.
Specification of form and function: Finalization of dimensions, operation and 3D modeling.
Additive Manufacturing: 3D printing for rapid prototyping.
Attract attention and enhance brand identity
Thousands of decorating options: extensive color libraries, coating types, anondizations, silk-screening, etc.
Delivered by In-House Systems.
Vacuum leakage
Separation force / Application force​
Drop test
Weight loss
Application torque / removal torque
Scotch tape / product resistance test
Product evacuation
Dosage
Initial pumps to prime
Decorated Samples / Low Volume Production
Dedicated production line for fast delivery of decorated samples.
Support for small production batches (as low as 50 units).
Find out more on our focused markets
Healthcare
Maintaining our health is a deeply personal endeavour. Trust is a critical aspect; trust in your product. Whether to find relief or to prevent discomfort, your product must be dispensed accurately, especially for prescribed dosages, and maintained without affecting the formulation. PKG Group has the experience and an extensive catalog of options to deliver the correct amount of your product to the right location, while preventing contamination.
Personal Care
Daily interaction with personal care products can develop very strong feelings among consumers; these experiences are among most personal of everyday activities. Don't let packaging be a liability. With accurate and easy dispensing, stylish design and high quality packaging for any formulation, let PKG Group help build a stronger connection with your customers.
Beauty
In a world of beauty, your products should stand out. Let their beauty shine. PKG Group's in-house production capabilities support custom package design, decorating, hot stamping, anodizing, metallizing, printing and silk screening. We can produce the right packaging to express the beauty of your skincare and cosmetic products, while engineering operation and performance to the highest standards.