Quality airless packaging is our specialty. Select from a range of airless packages available in bottles, tubes, jars, applicators, compacts, droppers, and mix chamber packages.
What is Airless?
These dispensing systems are composed of an airless pump paired with a specialty container, which utilize a piston to pull the contents from the bottom of the container. Together, these components use the vacuum principle allowing for controlled metered dose dispensing, and ensure that the product is not exposed to air or oxidation until its point of use! Airless systems are engineered to dispense the last drops of product with ease, greatly reducing wasted formula as compared to a standard diptube pump!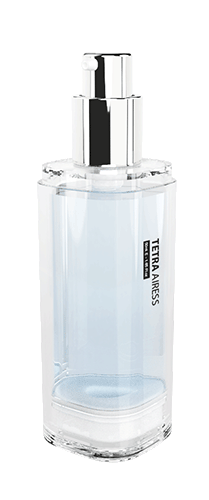 Why Choose Airless?
Reduce Residual Product:

 

As the piston pushes the contents from the bottom, there is far less residual product remaining in the container than would be left in a dip tube pump dispenser.
Content Preservation: By minimizing the exposure to air contents are protected from oxidation.
Wide Scope of Application: Dispense low viscosity and high viscosity contents.
Metered Dose: Dispense a controlled amount of contents during each actuation.
360° Actuation: Dispense product from the pump at any angle.
Ask a question!
Not seeing what you're looking for? Airless packaging is our specialty, let's start something new! Our expert Custom Development Project (CDP) team is ready to work with you during each stage of your development process, offering unmatched expertise and package design capabilities!