Allow us to bring your next packaging or dispensing idea to fruition! Learn all about our package development processes and how we can help drive your next product from ideation to commercialization! We design solutions for small to large-scale manufacturing, including fully functional prototypes and decorated samples.
Our package development process spans a few stages. Beginning with ideation, our team identifies unique qualities and functions to begin the sketching process. Once the idea takes shape, our experts begin to define the dimensions and visualization process for 3D modeling and rapid prototyping. Our state of the art Computer Aided Design and Engineering (CAD & CAE) are utilized to bring everything to life!
Pictured on the right is our design visualizations for the Tension Body. The concept started with the idea for a package to be metered-dose, senior friendly, and refillable.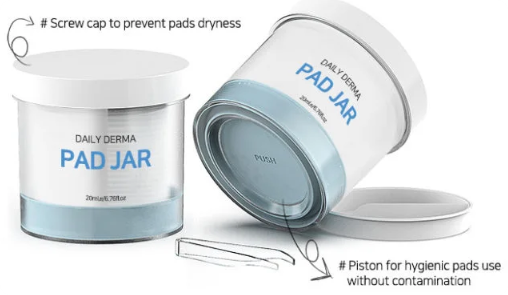 Pictured on the left is our innovative Pad Jar. This jar has improved sealing for reduced dryness, and movable piston to push product to top reducing user reach and potential contamination.
Our custom development process involves steps to help to ensure we are providing the best packaging solution for our customers brand. To do this, our team aligns with the client's brand identity and analyzes any concepts or issues that need solving. We also provide services that can aid the process, including small tooling, functional sampling, full small-batch decoration, and commercial scalability!

Our team of 50+ engineers are ready to put their decades of experience and expertise to work, exceeding your development project expectations Partner with us and we are ready to guide you through every step of the design process. Starting with ideation, our team can help create packages that tell your story through custom shapes, functions, and decoration.