What is refillable packaging? Simply put, these are dispensing mechanisms that contain a replaceable product chamber.
Why choose refillable? Refillable packages have benefits for producers and consumers, making refillable options a viable solution for today's packaging and sustainability needs. The reason behind brands adopting refillable packaging is most often accredited to the substantial decrease in plastic waste, used energy, and resources.
Establishing a circular economy with sustainable practices is crucial to the wellbeing of our oceans, environments, and ecosystems. The focus on sustainability invites our engineers to design efficient solutions without sacrificing quality or safety, which allows us to provide high end dispensers with low-cost refill chambers. We have developed a variety of both airless and non-airless refillable dispensing solutions for the beauty, skincare, personal care, and healthcare markets, including pumps, jars, bottles, compacts, and ampoules.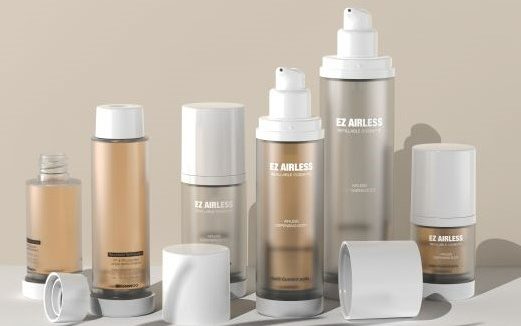 Refillable packages bring a new complexity to the consumer adoption process, adding the need to remove and replace existing package components. Because of this, the process should be practical and user-friendly while also minimizing contaminants. The dispensing system should also be durable enough to last extensive uses.
For example, pictured on the left is our EZ Airless refillable bottle. What makes this package so unique is its simple refill system which screws on and off of the airless pump and over cap, clicking into place.
Watch the refill process for the EZ Airless below.